TalkFord Gold Members Don't See Adverts! Subscribe Today To Hide This Advert!
Ford Ka Mk1 Forum (1996-2008)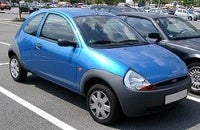 Handy Links!
Ka Mk1 Wiki Page at FordWiki.co.uk
Ka Mk1 Sales Brochures
Ka Mk1 Owners Reviews
Ka Mk1 Buyers Guide
NEW - Ka Mk1 Parts For Sale
NEW - Ka Mk1 Specifications
Posted by Nick
Posted by Nick
Subforums
1753 topics
16850 replies

Covering: Mechanical problems, modifications and questions associated with all drivetrain components fitted to the Ford Ka Mk1.

1667 topics
16812 replies

Covering: External panel work / Interior problems, design & changes / Bodykits / Visual enhancements

Covering: All electrical / electronic systems & components.e.g. ECU, starter motor, alternator, wash/wipe, seat motors, Odometer & other instruments, etc.
Please log in to post a topic
Topic
Started By
Stats
Last Post Info

Started by Habby ,

11 Jun 2017

steertka roof release lock


Started by tommygoldy ,

15 Feb 2017


Started by cap77 ,

27 Feb 2017


Started by tommygoldy ,

23 Jan 2017


Started by johnnie bing bong ,

25 Jan 2017


Started by St.Ka.1 ,

29 Jan 2017


Started by Stephylkh ,

01 Apr 2016


Started by Alex01 ,

28 Mar 2016


Started by Alex01 ,

24 Mar 2016


Started by ashwheeler1983 ,

01 Mar 2016


Started by Gary37 ,

01 Mar 2016


Started by First car problems ,

23 Oct 2015


Started by mclovin9091 ,

31 Jan 2016


Started by allan362 ,

27 Jan 2016


Started by logan141 ,

19 Jan 2016


Started by motopete ,

10 Jan 2016


Started by milly123 ,

28 Dec 2015


Started by CG1996 ,

20 Nov 2015


Started by Twincam8299 ,

23 Oct 2015


Started by rochdaleG ,

16 Oct 2015


Started by royaljim ,

18 Oct 2015


Started by dougal252 ,

15 Sep 2015


Started by akjsmith ,

15 Sep 2015

horn

,

kaclimate

,

2008

,

ka


Started by jimmynewbs ,

13 Aug 2015

keys

,

ignition

,

barrell

,

locks


Started by Frank77 ,

29 Jul 2015

power steering

,

pump removal
Please log in to post a topic