Discussion Starter
·
#1
·
Hi guys,
I have a Ford Mondeo MK4 2.0 TDCI 120kW with a very unusual problem and I was very desperate, because even in my service they weren't sure what's wrong.
Gradually, the fuel injector clamps are breaking. It started a year ago. First I broke one. I said it was probably pulled too tight when the copper washers were changed. In 1-2 months 2 more broke. Two months ago I had all 4 already changed (original and brand new clamps were used). Yesterday after the start another one broke, which had a maximum of 600 km or less.
I was present in the garage the last 2 times to make sure they're doing everything professionally. The holders are original and were screwed by force and angle given by the program.
The almost new broken clamp looked like this: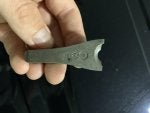 The first broken clamp broke like this:
Do you have any idea what might be the problem? The owner of the garage had not seen anything similar ever...
I'm quite desperate here and would be thankful for any advise!
Thank you