Discussion Starter
·
#1
·
I've had a browse of the forums and couldn't see anything similar.
I recently installed a front facing dash cam in my MK4 Mondeo and rather than powering if off the cigar lighter circuit or piggy backing off something in the fusebox I thought why not use the closest power source which is the interior light cluster. The great thing about this is it's ingntion live only and will power off 20 minutes after you lock the car so should cover you while you nip into the shops etc.
To remove the interior light follow this guide:
http://www.talkford.com/community/topic/145741-interior-light-removal/
Once you have the light cluster down you're going to want to splice into the brown and black wires shown here:
Remove some of the sticky black cable shroud to reveal more of the cable, then use a sharp knife slice off about 4cm of insulation from each of the wires while being careful not to damage the conductor. It's probably a good idea to remove the fuse for the interior lights before you do this but personally I didn't bother.
I used this step down transformer from eBay to create the 5V needed to power the dash cam, it comes with female USB sockets so this plus a short ~50cm mini USB cable is all you need :
http://www.ebay.co.uk/itm/390960385453?_trksid=p2057872.m2749.l2649&ssPageName=STRK%3AMEBIDX%3AIT
I stripped off about 3cm of insulation from the end of the red and black wires then wrapped the red one around the brown wire and the black one around the black wire.
I soldered these wires together to create a good, solid connection and then wrapped the connections with electrical tape, see below: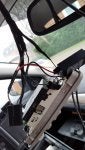 It's fairly easy then to route your mini usb cable up through the light cluster hole and have it poking out just in front of the rear-view mirror:
All that's left to do is poke all the excess cable up there and re-fit the interior light. If you removed the fuse don't forget to put that back in.
You should now be set to mount a dash-cam on your windscreen, personally I used the Transcend DrivePro 200 and so far I'm happy with it.