Discussion Starter
·
#1
·
What ho one and all,
I know this topic has been handled before, but I am still very unclear on the best way to jack the car.
to the best of my understanding, it is on the raised seam behind the front wheels and likewise, in front to the rear. But X years ago, when I tried on the front seam, all I managed to do was bend the seam!
So I purchased two varieties of slotted pucks.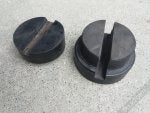 The shallow slot of a total no-go as the seam just cuts into it and it already has a split. so I purchased the deeper one. Again, somewhat useless. When the weight is applied, it tries to open and is also splitting on the base of the slot. Additionally, the head of the trolley jack just seems to embed itself into the puck and does not give confidence. May be I need a wider diameter head on the jack?
Which then brings the question, where to position the puck? At the front, the main seam is red, the green seam prevents the puck being positioned there and the nuts is the same. Behind the nut, there seems to be only two seams, not three and if the slotted puck is positioned there, is the body sufficiently strong to take the weight (even when the slotted puck it trying to split open?)
At the rear, the yellow arrow is the outer sill, the red is inner. But the inner is not very wide and again, the slotted puck kinda slides off and is forced open.
At the front, I usually use the sub-frame attachment bolt but if I want to remove the s-f, and the car is on the stands, where does one position the stands to take the weight?
Likewise, the rear, where I usually use the bolt head of the front mounting bracket. As I am considering renewing the tie bar, obviously, that cannot be used for the stand. Again, where is the best place to position them?
Toodle pip