Discussion Starter
·
#1
·
Hi,
I'm helping a friend with their Mk4 Mondeo TDCi which has an airbag fault. The light on the dashboard stays on while the car is running.
I've scanned it with a code reader (iCarSoft EUR PRO, which claims to read all module codes from Mondeos) and it doesn't recognise a Restraint Control Module as being present in the car. The module isn't listed on 'Auto Scan' and if you do a manual scan and look for the module it gives an error message as if the module wasn't fitted.
I am
assuming
that this means that the module is faulty and causing the problem. Fair assumption?
There clearly is a Restraint Control Module present and it looks like this:
From what I can tell, the wiring to the existing module is all intact (not damaged) and the plugs are plugged into the module correctly.
What would you do next to solve this problem? My guess is to replace the module. Can I use a second-hand module from another car? There is a guy on ebay selling them for £9 each, here: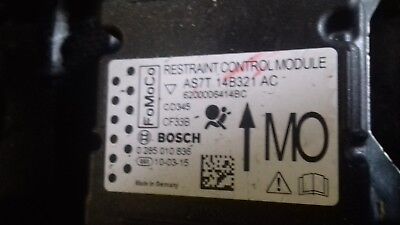 2010 FORD MONDEO MK4 2010 TO 2014. AIRBAG ECU AS7T-14B321-AC. FORD PART NUMBERAS7T14B321AC. BREAKING THE FULL CAR.
Is swapping them an easy job (as easy as taking the old one out and plugging the new one in) or does it need to be coded to the chassis of the car?
All help welcomed - thanks!