Discussion Starter
·
#1
·
Hi,
I used to run a Mk1 24v manual hatchback in nouveau red in which I did 50k odd (relatively) trouble free miles. I loved the fact that it was essentially a base model with a manual sunroof and winding windows in the back, but with a stonking V6 under the bonnet with a tone that you could play like a Stradivarius. Unfortunately rising fuel costs and the fact that my girlfriend at the time lived 90 miles away meant that when it started to make funny noises I raided the piggybank for a 2001 VW Bora Tdi. The VW hasn't missed a beat and the midrange torque is brilliant but I still mourned the rev range of the V6.
I never actually got rid of the Mondeo and it sat on my mothers drive for nearly 4 years, still started occasionally just to keep it free.
Bought a house.
With a garage,
Fast forward to 2011 and I finally (to mother's relief - bless her) moved the Mondeo to mine.
Ebay, (other internet auction sites are available), and 550 hard earned quids turned me into the owner of the engine out of an ST220 that had suffered a rear ending. I was a tad apprehensive as all the other 220 engines at the time were £1000 upwards so what had I bought?!
Saddled up the trailer and my brother (he was for company, not to pull the trailer) and went to Birmingham to pick it up. Was a full engine with all belts and ancilliaries and a gearbox to boot. Pulled it home. Sadly I have no pictures of the V6 powered trailer.
So armed with Haynes' finest and a set of old clothes I about removing the old 2.5 out of the Mondeo.
I was without a camera at this point, so there's no photos, but I swapped the gearboxes over (my car was rod change, not cable), and used some old bits of exhaust pipe to make the 220 precats mate up with the old Y pipe. (I wanted to try and make this project relatively quick and cheap)
(pics are retrospect, sorry about the sepia)
and the rear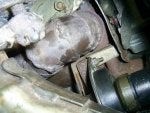 More to come.